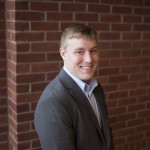 By: Dave Herbe, CPA- Senior Accountant
This is a very stressful time for anyone who is involved in the world of income taxes. With only weeks remain to timely file returns it can put a lot of pressure on tax preparers. It brings long hours and time away from family and friends. One thing to always remember and something we try to carry out at Holbrook & Manter is to find a stress relief during this busy time.
This could be anything from taking an hour of your day to hit the gym, or taking off a little early one night to spend some time with family to decompose from all the stresses that tax season brings. One thing we do at our office locations… we bring in "Tax Perk" lunch one day a week for our team members. We all try to eat lunch together and take time away from all the pressures that come with meeting the deadline.
I work out of our Columbus office, where we also have a putt putt league. Every Tuesday we go around and take our best shot at a few holes setup around the office. It gives us a chance to take our minds off of our work and try to have a little fun.
Over the next few weeks it will definitely be stressful and the only way to keep your sanity is to try to take some time to decompress from the stress that tax season brings. Good luck to anyone who is dealing with these same stresses as we approach the deadline! It will be over before we know it.
While we aim to find ways to relieve the stress of our busy season, client service remains our top priority. If you have tax questions or need assistance with your tax returns, Holbrook & Manter is a full service firm and would be happy to work with you!
Back