Global Reach
Doing business throughout North America and even globally is no longer the exception, but the rule, as an increasing number of companies are expanding their operations and/or doing business around the globe. Whether you have locations or operations in different time zones or are doing business internationally, we have the resources to meet your needs.
About Allinial Global:
Allinial Global is an association of accounting and consulting firms whose members reinforce client service by exchanging expertise, resources, and advice in a wide range of industries. Founded in 1969, Allinial Global is one hundred members strong and growing, with locations throughout the US, Canada, Mexico, Caribbean, and larger world generating approximately $1.6 billion in collective revenues. Their global reach helps Holbrook & Manter, CPAs serve our clients' business needs throughout the world. Allinial Global provides dedicated regional liaisons with extensive connections in the Americas, EMEA (Europe, Middle East, Africa), and Asia-Pacific. It also promotes connectivity through global relationships with both individual and organizational members and partners. Through them, we are able to partner with international firms that hold themselves to the same high standards we do. As an Allinial Global member, we are proud to be an independently owned firm that's passed the high threshold of association membership. Though each accepted firm excels in its own right, the strong relationships developed between peer firms combined with a free and fruitful exchange of ideas ultimately advance all of our service outcomes. Holbrook & Manter, CPAs also ensures our continual competitive improvement in the ever-evolving business landscape by taking advantage of Allinial Global's professional development and technical training, thought leadership, and industry-specific resources. Due to their technical excellence, many Allinial Global members have been appointed to prestigious committees and boards such AICPA's Technical Issues Committees, Employee Benefit Plans Expert Panel, Forensics and Valuation Services Executive Committee, and numerous State Boards of Accountancy. There's not a single question that cannot be answered within the Allinial Global membership because our collective experience offers both depth and breadth. Most important, though, is the shared Allinial Global commitment to provide the most client-centric service possible. When needed, we have the ability to leverage our membership in order find not just an adequate solution to your business needs, but the best-in-class solution anywhere in the world. At Holbrook & Manter, CPAs, our goal is to be your most trusted advisors, both locally and globally. Allinial Global helps us deliver.
For more information, please visit www.allinialglobal.com.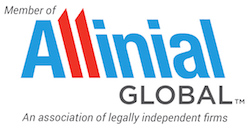 Our Expertise
At Holbrook & Manter, our professional accounting team continually raises the value of the services they provide clients – from day-to-day accounting to business consulting.
They invest time, energy and resources to enhance their financial and business management expertise and to stay ahead of changing industry and regulatory trends that affect your bottom line.
Through continuing education and attainment of specialized credentials, the H&M team builds upon their solid foundation of experience to continually serve you better. [>
Credentials earned by H&M team members include:
IFRS
Many SEC-registered companies and larger, privately held companies are starting to educate themselves on the inevitable conversion to International Financial Reporting Standards (IFRS). We are collaborating closely with our affiliates in assisting our clients with IFRS education, training and conversion services. Auditors of SEC-registered clients will be conflicted out of these types of services since they will be required to audit the information in the future. We can assist you with the conversion process, while coordinating with your independent auditors at every step of the way.
Domestic and even International Tax Solutions
Complex tax legislation and strict control by taxing authorities make it necessary for you to align yourself with an advisor that can provide services beyond Ohio and even include international tax planning and compliance services. Our tax team provides advanced tax planning and minimization strategies for businesses operating around the world including specific services such as transfer pricing, IC Disc and the foreign tax credit computations.
Example Services
IFRS education, training and conversion
Management of financial information and cash flows
Transfer pricing
IC Disc
Foreign Tax Credit
International structure
International tax planning
Transaction consulting
Multi-Jurisdictional Tax Compliance & Planning