H&M Welcomes New Senior Accountant
H&M is proud to welcome Christine McCoy to our growing team! Christine has joined our Business Services & Solutions Team as a senior accountant and will work with a variety of clients with a focus on healthcare.
Christine's professional background touches many corners of accounting and healthcare. She spent almost 30 years in the finance department at Marion General Hospital. She also worked as the office manager and accountant for an oral surgery practice, where she also worked with the patients, which she shares that she really enjoyed.
Christine was born in Marion, Ohio and has a twin brother. Speaking of Marion General Hospital, that is where they were born. Christine and her brother were born seven weeks early and spent their first month of life at the hospital. It is fun to know this fact given that Christine went on to work for the hospital for so many years. Christine also shares that she volunteers under TWIG II of Marion General Hospital to raise money for the Mother/Baby unit and Pediatrics. Talk about full circle!
Christine grew up on a farm that has been in her family for over 200 years. Her parents still live there today. She is married to Matt McCoy, President of McCoy Landscape Services located in Marion. They have two dogs, Levi and Corbin and a cat named Tabby.
In her spare time Christine loves to go antiquing and find old furniture pieces and make them new again or repurposed. She currently has  a project going  that was an old toddlers headboard and footboard from the 1900's  that will be a dog bed when completed.
Join us in welcoming Christine to our team!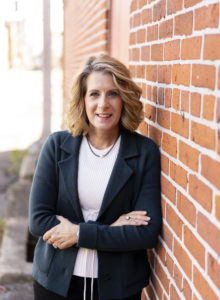 Back