H&M Named "Business of the Year" By Union County Chamber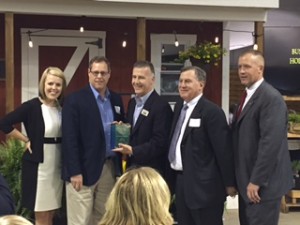 Holbrook & Manter, CPAs Professional Services Firm with offices in Columbus, Dublin, Marion and Marysville has been named "Business of the Year" by the Union County Chamber.
The award was presented at the chamber's Annual Celebration, held on Thursday, April 20, 2017 at the Dutch Mill Greenhouse in Marysville. The award recognizes all that Holbrook & Manter, CPAs has done to improve the quality of life in Marysville and Union County.      
Firm principals, Robert Buckley, Brian Ravencraft and Stephen Smith accepted the award and addressed the over 200 attendees at the event sharing how humbled the firm is to be the recipient of this honor. During the acceptance speech, Robert credited the H&M team members for the firm's continued success. Brian touched on how much the firm enjoys being a part of and giving back to the community. Stephen highlighted the fact that three of the firm's six principals call Union County home.
Holbrook & Manter, CPAs has had a presence in Union County since 1981. H&M's current Marysville location at 103 Professional Parkway was built in 2006. Holbrook & Manter, CPAs is proud to support the Union County Chamber. As it reads on their website, The Union County Chamber of Commerce is the nucleus of the Union County community providing a forum and the collective voice for business, government, and the citizenry. Through member services, small and large business assistance, tourism development, community support and promotion, and business advocacy the Chamber will ensure business and community growth and development thereby improving the quality of life of Union County.
Holbrook & Manter, CPAs is a professional services firm specializing in family and closely held businesses. Since its origination in 1919, H&M has been dedicated to providing superior accounting, tax and management consulting advice to both businesses and individuals. Holbrook & Manter, CPAs provides cost effective, high quality technical service combined with sound personal attention. They are able to serve clients in virtually all areas of business, including those that require specialized expertise.
H&M is a member of Allinial Global, an association of legally independent accounting and consulting firms who share education, marketing resources and technical knowledge in a wide range of industries.
Please visit the following sites to learn more about our service offerings and areas of expertise:
www.BusinessAccountingServicesOhio.com
For press inquiries, please contact:
Molly Pensyl, Business Development Manager
614.516.0040 or MPensyl@HolbrookManter.com
Back