H&M Wins Association for Accounting Marketing Achievement Award
FOR IMMEDIATE RELEASE
The Association for Accounting Marketing (AAM) has recognized the rebrand rolled out by Holbrook & Manter with a marketing achievement award.
This award celebrates the branding efforts put forth by H&M, which included an entire overhaul of the firm's logos, colors, messaging, websites and more. The new brand was strategically introduced in 2019 in conjunction with the firm's 100th year in business.
Expert category judges, including professionals in marketing, advertising, communications, and professional services reviewed and judged more than 70 entries for this year's awards. Winning entries were recognized for the accomplishment of a specific goal or objective, executing a project strategically, and measurable results.
"Our team is very honored to receive this award," says H&M's Marketing & Business Development Manager, Molly Pensyl, "a rebrand is no small undertaking and we have been thrilled to adopt our new look and watch it take shape. We are grateful to the design and branding professionals who helped us with this process."
H&M Principal Stephen Smith shares, "A lot of thought and effort went into H&M's one-hundred -year rebranding initiative, so it is very humbling to be recognized and rewarded by AAM on a job well done."
To learn more about this honor, visit the AAM website at this link to review the official press release: https://bit.ly/2XJvijY
Holbrook & Manter, CPAs is an employee-owned professional services firm specializing in family and closely held businesses. For over 100 years, H&M has provided superior accounting, tax and management consulting advice to both businesses and individuals. With five locations across the Central Ohio region, H&M provides cost effective, high quality technical service combined with sound personal attention. H&M is a member of Allinial Global, an association of legally independent accounting and consulting firms from across the globe who share education, marketing resources and technical knowledge in a wide range of industries.
Learn more about H&M at www.holbrookmanter.com
For press inquiries, please contact:
Molly Pensyl, Marketing & Business Development Manager
614.516.0040 or MPensyl@HolbrookManter.com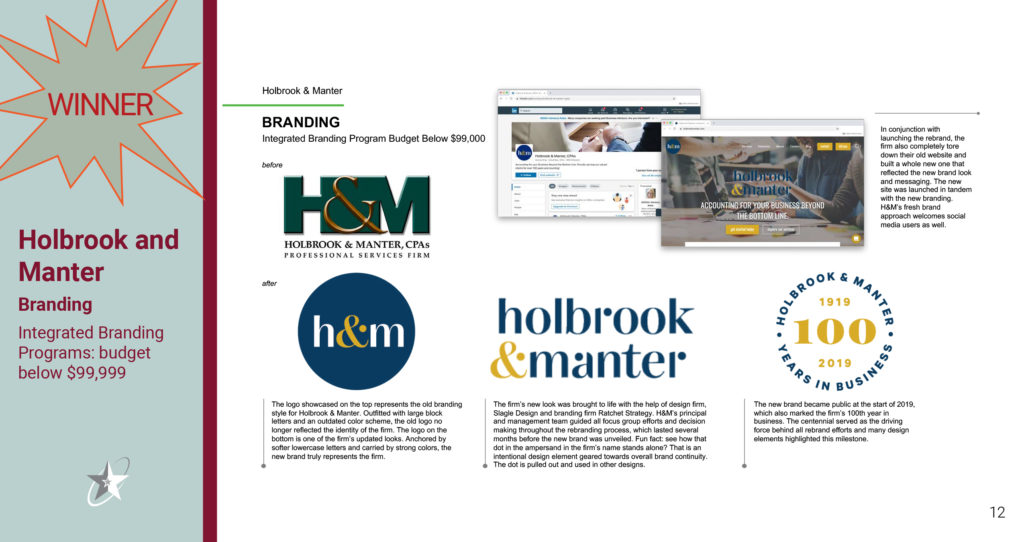 Back